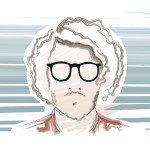 Stephen is a co-founder of new theatre company CHEAT, doing occasional freelance set design and construction, whilst also a full-time Design, Technology and Engineering teacher at Highgate School in London. He has worked on diverse projects including a six-hour production of Macbeth set overnight in an East-End tower block, an adaptation of Alice's Adventures in Wonderland in The Vaults under Waterloo, and is currently in the process of designing a futuristic whodunnit involving a six-foot bluebottle and her hundreds of children.
Stephen graduated from The Bartlett School of Architecture, UCL with a First-Class Honours in Architectural & Interdisciplinary Studies. His dissertation and final year design project work focused on the intersection between architectural and dramatic space, and involved the design of an immersive scenography that asked questions of its users' interactions with space.
He has worked in the architectural field at the Oval Partnership's London branch, designing everything from private housing to gardens and landscaping; from interactive benches and installations to brochure and book publications. Exploring the design of architectural space has informed Stephen's approach to scenography in focusing on interaction.
He is also an accomplished graphic designer, having designed an abundance of 2D material from logos and letterheads right through to entire bar identities and poster series for productions.
Contact Stephen via e-mail at stephenmahenderson@gmail.com.
---